Before you order at Kendejah — before you even ask questions about the dishes on the menu, in fact — Dougie Uso will distribute a laminated card to you and your fellow diners and ask you to read it. "A short history of Liberia & Kendejah," it is titled: four paragraphs describing how free black Americans emigrated to West Africa starting in 1821 and, in 1847, created a political state.
After 18 months in business, Uso, a 44-year-old with shoulder-length dreads and the slimmest shadow of West Africa in his speech, has condensed his introduction to Liberian food into a well-rehearsed patter, but it's a critical one for first-timers to absorb so the dishes they see flipping through the menu make sense.
Kendejah is a mission-driven business, as the corporate giants like to say. There's a lot for Uso to fit into his introduction: a slice of history most Americans don't know, personal pride, a definition of the country's food, a branding opportunity. The recent MBA grad is growth-minded, too, with a new food truck about to hit the streets. If you can't make it to downtown San Leandro to take in a little Liberian culture, Kendejah will soon drive to you.
In 1990, at the age of 15, Uso came to Oakland from Monrovia, Liberia's capital city, to visit his father, who had already moved to California. He never went back. During his stay, civil war broke out in Liberia — and lasted until he was 30. The conflict ended more than 150 years of relative peace in Liberia, killing as many as 200,000 and eviscerating the country's finances and educational system.
In the East Bay, where his entire family found refuge, Uso says that he found the dislocation between the two cultures less dramatic than an outsider might expect. Monrovia was so entranced by New York hip-hop in the late 1980s that Uso entered Oakland High School writing his own raps and dancing East Coast moves that hadn't yet made it to the West Coast. He graduated from high school and UC Berkeley, where he earned his bachelor's in political science in the 1990s.
After 20 years in the car industry, first as a salesman and then in financing — watch him chat up newcomers, and an ease that comes from years on the sales floor is evident — Uso went back to school for his MBA.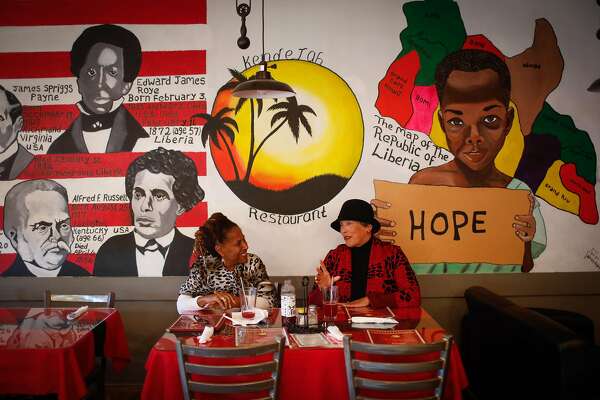 Opening a Liberian restaurant, he says, was one plan of many he nursed during his studies. "I'm a walking idea machine," he says. But it was the one he pursued first. The mother of his current chef, Miemie Johnson, spotted a vacant storefront in San Leandro's Pelton Center. It took Uso a year to build a full kitchen and install plumbing and flooring. He hired a Liberian artist to paint portraits of the first eight Liberian presidents on the walls, and mounted a television on the wall that would play West African hip-hop videos.
Kendejah finally opened in March 2017. That first month, Uso says, Liberian immigrants made up 35 percent of his customers. But he knew that wouldn't last. "Liberians know how to cook their own food," he said. "You're not cooking for 100 (out of 100) Liberians. You're cooking for six Liberians, or on a good day, 10."
How should a child of Monrovia and Oakland, fluent in two cultures, teach Californians about Liberian cuisine, especially given how rare West African food is in the Bay Area? How should the food welcome them in and draw them back? What, in short, would Liberian American food look like?
Uso decided to emphasize the familiar, given West Africa's influence on the cooking of the South and the larger lessons of Liberia's history — of freedom and self-direction, of men and women who made it out of slavery and founded a country — that Uso wanted Americans to know. "Half of the foods we eat are traditional, as far as the cassava leaf, the palm butter stew, the palaver sauce," he says. "Then the other half are fusion dishes that most Americans have had, maybe a different variation — for example, collard greens, fried okra, oxtails, eggplant and spinach. We just cook it with a little twist."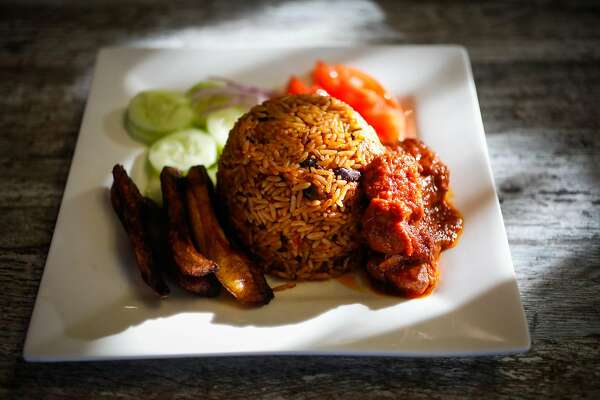 He picked three dishes to build the menu around: braised oxtail, fried red snapper with tomato-pepper gravy, and jollof rice (Uso describes it as a "stir-fried jambalaya"; it's rice cooked with peppers and spices) with chicken or vegetarian gravy. Then he had the cooks remove the spice — an auntie makes a habanero-and-smoked-herring paste if you want to add it back in — and, in some cases, meat and smoked fish.
It's fascinating to see Uso's effort to consciously create a Liberian American cuisine. In the Bay Area, where we make the decision to eat "Vietnamese" for lunch and "German" for dinner, what we so often mean are the totemic foods that these cuisines have been reduced to — tea salad for Burmese cuisine, say, or pupusas for Salvadoran. These dishes have become so familiar to outsiders that every cook and restaurateur has to make their peace with them. You can tell 1,000 tables that meals in Mexico don't begin with chips and salsa, or you can put a basket of chips on the menu and charge them for their own ignorance.
By taking control of that abstraction process, Uso sees it as a business opportunity. "People say the food business is too hard," he says. "Yes it is, if you've got a Vietnamese restaurant and there are 20 others. You've got a one-of-a-kind cuisine (like Liberian), it has to work out if the food is great."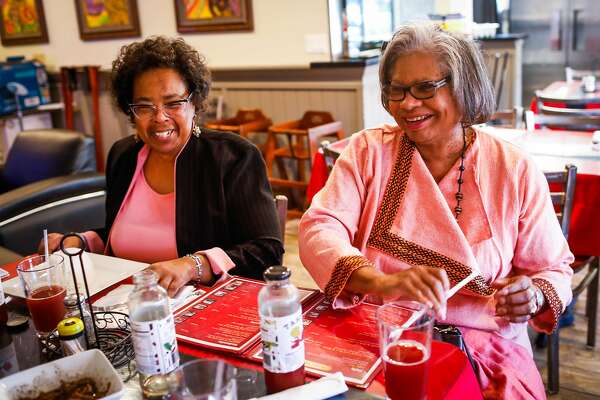 In a few weeks, the 26-foot food truck he just refitted — complete with fryers, ovens and an external TV screen to play music — will undergo its final health inspections. Uso is looking for a spot in Berkeley to park it and is telling all his customers to follow Kendejah on Instagram. Given his background in finance, he's done the math, and figures the best way to get his Liberian cuisine out there is to set up a fleet of trucks. Kendejah in Berkeley. Kendejah in San Francisco. Kendejah in San Jose.
He recounts a story he heard from an Ethiopian restaurant owner in the store where he picks up his supplies. "She told me there was a guy who came here 40 years ago, and he was the first guy to open an Ethiopian restaurant. Now every American knows what Ethiopian food tastes like because of that one guy. That's who I want to be."
Where and when: 197 Pelton Center Way, San Leandro, 510-756-6049, kendejahrestaurant.com. Open 11:30 a.m.-10:00 p.m. Tuesday-Sunday.
Source : San Francisco Chronicle